Foreword by Jim Trelease, author of The Read-Aloud Handbook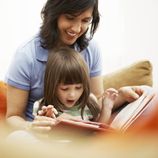 For anyone who teaches reading, Teach a Child to Read With Children's Books should be required reading. As veteran teachers, Mark Thogmartin and Mary Gallagher present a common-sense argument that is widely supported by extensive research: real books offer greater success than textbooks.
To begin with, real books like The House That Jack Built or Miss Nelson Is Missing have the same 44 sounds and syllables, phonics, and sight words as do textbooks. The big difference is that real books are a whole lot more interesting. Have you ever heard of a child with a favorite basal reader or a favorite vowel or consonant? Of course not; they have favorite stories and favorite authors.
In all teaching, the greatest amount of learning takes place at the point of interest. Without interest, the whole process becomes a case of forced feeding. And as Plato noted, "Forced feeding always turns the stomach."
For reading teachers and tutors, home schoolers, or parents and grandparents who simply want to help develop a love for reading in their children, Teach a Child to Read With Children's Books should be a second bible in the family. It is filled with resources, information, strategies, and inspiration for learning. I highly recommend it.
~ Jim Trelease, Author - The Read-Aloud Handbook
Testimonials From Users
"I would have saved a lot of money!"
I am the queen of trying new reading curricula thinking that it would help my struggling reader.  None of the curricula that I tried worked. What truly worked for my children and me was using the ideas from Mark Thogmartin's book Teach a Child to Read with Children's Books. I love the book list at the back of the book. Constantly reading tons of books to my children along with using TACTRWCB was a huge help to me in teaching my oldest two to read.

If I had to do it over again I would just buy Teach a Child to Read with Children's Books and use my library card. I would have saved a lot of money!
~ Homeschooling mom (from discussion board)
Thank you from the bottom of my heart
I wanted to thank you for your book. I have been using the 3rd edition for many years now in homeschooling my children. My now 11 year old son was my first to learn to read. Using your approach, he quickly took off and felt successful from the first day. By the age of 6 1/2 years old, he had read the first four Harry Potter books and is still a voracious reader who comprehends with ease reading now at a college level. My second child is now 9 years old, and is much the same. His fluency increased a bit later but he quickly caught up to the older child. He is reading at a middle school or higher level and loves it. The original Pilgrim's Progress is a favorite with him even! My third child, a girl, also took off with you method just over age 6. She recently turned 7 years old (ending first grade) and has read not only Harry Potter books, but all of E.B. White and many others.
My fourth child has been begging me to teach her to read. Since she recently turned 5 years old, we have now started by cementing all the prereading skills (knowing all letters and sounds, for example). She is so excited and I am again rereading your book to remind myself of all the methods. I know she will learn to read well as will my two younger sons (ages 3 and 19 months) when their time comes. Thank you from the bottom of my heart for an easy to use, realistic, enjoyable and successful method of instructing our children in their most important learning skill.
~ Homeschooling mother of six
Refreshing & Just Right for the Intended Audience
The author's target audience is parents who are teaching their children to read at home, and he writes in a comprehensible manner for those not steeped in educational jargon. On the other hand, he avoids the trap of telling his audience simply what to do as if parents or non-education professionals were not able to grasp the basic principles of literacy development; therefore, this is a book of not only "how to" but "why" and should be quite refreshing for parents who want to know just how reading comes about. The author grounds his beliefs about reading not only in research but also in extensive experience in teaching children to read so that there is a firm connection between theory and practice.
No doubt about it--the act of reading is enormously intricate; yet, the straightforward explanation of language acquisition, the interactive reading process, and observable behaviors of early readers should de-mystify the complex reading puzzle for parents. The author has, therefore, skillfully communicated that teaching a child to read is doable without reducing learning to read to some type of simplistic activity. Further, he states the importance of phonics AND places it right where it belongs in the entire reading process--as a valuable tool for the child's word recognition strategies in the context of real reading and real writing. Reading is so much more than merely learning phonetic elements, and the author addresses what the "more" is for the reader.
Throughout the book are ample real-life examples of teaching children to read and specific suggestions for parents based on literacy research and actual experiences. Included is a lesson plan format, record-keeping forms, lists of materials, strategy development explanation and activities, and recorded dialogue between parent and child as the child is guided through a book for the first time. This latter section of the book is very helpful--this is what a sit-down, read-with-me lesson really looks like. At the end is a lengthy bibliography of books children customarily enjoy--leveled for a parent's convenience.
I am a teacher with 25 years experience in kindergarten and first grade classrooms AND a teacher of parents about reading as well. I would have recommended this book to any one of the parents of my students and do recommend it to parents who are home schooling and those who are interested in how their children learn to read. My suggestion for Mr. Thogmartin is to somehow make his book accessible and available to parents of the various cultures in our society.
Confirms what I discovered as a 1st grade teacher

At the end of the first day of school in my second year as a first grade teacher, a little girl came up to me at the end of the day. She said, "But, Teacher, we can't go home yet. I haven't learn how to read." So the next day, I came prepared with predictable books and activities that would allow every child go home on that second day with a sense that he/she could read.
Mark Thogmartin presents the same philosophy in his book. This book made me think about how I could tie phonics instruction in more closely with predictable books. I came away from this book with concrete ideas and plans that will help children understand connections in reading, phonics, writing, and enjoying stories.
Practical and easy to understand

This book is written at a level that is easy to understand and easy to put into practice. It empahsizes that writing is an important part of the process of learning to read, as well as phonics.
The book list offered in the appendix are very helpful in finding books appropriate for the level your child is reading at, from pre-reading, to second grade level.
If you want good, practical, easy to understand information on how to teach your child to read, or even how to improve their reading, I recommend this book.
Offers a balanced approach
I enjoyed this book very much and thought it offered a good balance, using phonics and real books. I used it with my daughter, and it has been another useful component in her learning how to read. It is also very inexpensive compared to all those packaged programs available! Recommended books are listed at the back of the book. I'd heartily recommend this title.