"It's Not a REAL Book" 
I was working in an elementary school a few years back and popped into the book sale - because who can resist looking at and touching all those new books? I was looking at new chapter books that might interest my son when I heard a mom and her son arguing.
"No, you can't get that. It's not a real book." she told him.
"But, mom," he replied, "I promise I'll read it!".
I casually maneuvered my way around the racks to see what this "not a real book" was that the mom was opposed to buying. It was a graphic novel.
The graphic novel has gained popularity in recent years and is an upgrade from the comic book of years ago. I knew that some boys liked the fast pace of the graphic novel, the high quality illustrations, and the adventure stories usually associated with them. I silently started chanting: "Let him get it. Let him get it." All the while having the internal conversation with myself about whether, as a reading specialist, it was appropriate for me to but in!
I let the mom in me (nobody wants unsolicited advice in front of their child) get the better of me and I kept silent. I was crushed, however, when she drew the line in the sand and said: "If that's the only thing you want then we are leaving and you're not getting anything." And so they did. Ugh, I regretted not saying something.
While a graphic novel may not be every parent's idea of great literature, if it interests a child, and it's in line with the content you approve, then let him read it! I once had a second grader
I was tutoring who was behind in reading and truthfully did not want to read or practice reading. I desperately needed to find him reading material so he could practice. I talked with him until I found something he was interested in, we visited the school library together, and we found him an armful of Calvin and Hobbes books to take home. His parents were thrilled that he was reading at home and that practice moved him forward in his reading skills.
Many experts will recommend that you start with phonics readers only, move to I Can Read books, short chapter books, and then on to classic children's literature. I say, include all of the above AND anything your child is interested in reading or learning about! And don't forget joke books, and magazines, and encyclopedias, and websites, and poems too! 
Read, read more, read more often.  Mary 
by Daniel Pennac
Do you wonder if you should allow your child to reread favorite stories, or on the other hand, if you should allow them to choose their books? What about silly books like Captain Underpants - is that type of book really helping your child become a reader? And what if he's bored or hates the chapter book all the home-school curriculum suggest is good, classic literature? 
When it comes to what's best for your readers we want to respect and abide by some basic guidelines we would give our adult selves. Some guidance and best judgement is recommended here but basically don't force your child to read something they find dreadfully boring unless it is necessary to fulfill a different purpose, and then provide ways to make it engaging: allow them to listen to the audio book or use it as a read-aloud or paired reading activity.
If your child chooses a book from the library and does not want to finish it, don't insist that he does. Life is too short to read books that aren't good and sometimes the best cover disguises the fact that a book just isn't our cup of tea. Now, don't let him get into the habit of never finishing a book because that is not good for habit development. Again - use your best judgement and think how you would handle the situation as an adult.
And those silly books and graphic novels? They are okay in moderation and they are preferable if your child is otherwise unmotivated to read or is overcoming a reading deficit. Interest will always propel a child to read more and try harder than a book he does not like.
I often hear parents ask if graphic novels are "real books". My answer: they are if they help your child become a better, happier reader! 
Allow your child to explore different genres. My son always made a beeline for the nonfiction section in the library and try as I might I could not get him interested in the pictures books no matter how lovely the illustrations.
In short, we want children to love books, love to read, and become independent readers who feel empowered to make choices about their reading. Reading should be something they choose to engage in not something done to them or imposed on them.
Read, read more, read more often. ~ Mary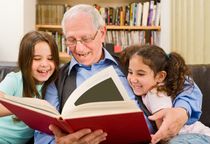 We recently received this email question from a parent:
I am looking at curriculum for next year for my sons who will be in Kindergarten and Grade 2. My Kindergarten child hasn't learned to read yet, and my other son is reading at a grade one level now. Would this book be appropriate as a full phonics program for the both of them? Or is it meant to supplement phonics/spelling? What would your recommendation be, to use this as a whole LA program, or would additional programs be needed as well? Thanks! 
Our reply:
Thanks for your interest in Teach a Child to Read With Children's Books. Although we wrote the book from the perspective that a child can learn to read without the need of a sequential intensive phonics program, it can be used in conjunction with such a program. In the book we express our concerns with intensive phonics approaches, specifically that children who are taught to focus primarily on memorizing rules and sounding out words can, sometimes, fall into a pattern where they are reading like a computer and not reading with fluency and comprehension. If you feel the need to use a packaged phonics program, perhaps the incorporation of the principles we share in the book will help you, as the child's teacher, to avoid these pitfalls and to emphasize fluency and comprehension.

Another potential negative by-product of an intensive, packaged approach is the tendency for these approaches to be boring, and to give the child the impression that "reading" is only about memorizing rules and sounding out words. So, if a grandparent asks the child "Do you like to read?" the child may respond with an enthusiastic "NO!" because s/he associates reading with endless memorization drills and meaningless robotic exercises. A child who learns to read using a balanced approach incorporating lots of enjoyable children's literature will, most likely, love the learning to read process.
 
Regarding the older child, it never hurts, and is always helpful, to incorporate great children's literature in the form of storybooks into the reading program. So, yes, I believe the older child will certainly benefit by the principles and resources we share in the book.

We wish you the best as you teach your children!
2 Comments
First Things aka "Big Rocks" 
One of my favorite quotes is from C. S. Lewis.
"When first things are put first, second things are not suppressed but increased."
To me, this speaks to all areas of life. It's like the illustration where the speaker tries to fit a bunch of big rocks, sand, and pebbles into a glass jar. Have you seen this? 
When he places the sand in first, followed by the pebbles and last the rocks, the big rocks do not fit. Try as he might, the rocks stick out or cannot all be placed into the jar. But, when he puts the big rocks in first, he can then pour the pebbles in, followed by the sand, and the pebbles and sand fall in and around the big rocks filling all the space in the jar. He can even add water to the jar because he's adding things in the correct order. 
This illustration shows us that it's important to first identify our "big rocks" in different areas of our lives. 
When it comes to teaching reading, a big rock should always be read-aloud time. When read-aloud time is not negotiable and becomes a daily habit, there will always be time for other activities. The read-aloud is the cornerstone of literacy instruction and should always maintain its big rock placement. 
The "second things" like flashcard practice, letter and sound activities, and handwriting development, will all fit better when the big rocks are in place. 
What are some other big rocks when it comes to literacy instruction and foundation in the home?
In addition to read-aloud time, children need time alone with books that are easy for them to read. We need to provide children the free time to get lost in a good book. This is unstructured time when children can pick books they enjoy that are easy-reads for them. They can choose favorites they read over and over or new books. This time allows them to develop as independent readers, gives them ownership and choice over what they read, and sets the foundation for becoming a lifelong reader for pleasure.
Time for writing – even if it is the very early foundations of writing for a preschooler – is also a big rock. Writing should be seen as the glove to the hand of reading and when young children are exposed to free writing time they will not develop the fear of writing we see in many school-age children and even in adults. Allow children to draw pictures about what you've read together, create their own stories either independently or with your help, and encourage them to read these stories to others, thereby creating an awareness of themselves as storytellers and writers.
Another big rock you will want to embed for literacy instruction is the daily guided reading time with your child. Guided reading time is when you model a new book or the next level of reading for your child and then read the selection together. You will want to check out chapter 10 in Teach a Child to Read with Children's Books where we model for you what a typical guided reading lesson would look like.
One thing I am confident about is when you read-aloud to your children daily, help them to gain confidence as writers, support them as independent readers, and give them supportive guided reading instruction, you are laying a strong foundation for capable, lifelong readers – using all the right rocks, of course!
~Mary