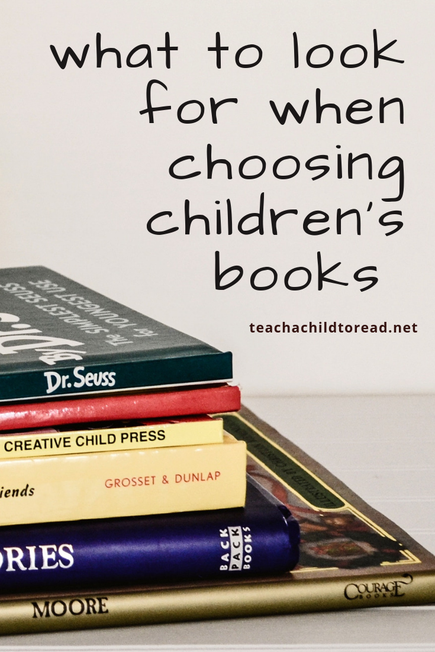 Well, you've decided that using REAL books is definitely the way to go for teaching reading, but one thing to keep in mind is that children need the RIGHT BOOKS to read in order to make progress. Here's what to look for when choosing books for your child to read.
Baby or Toddler Books
- board books
- easy to hold and page through
- letters or one word only that directly matches the picture
- photographs are preferable over drawings (especially for babies who need the clear, crisp representation of real objects)
- lots of white space
Emergent Readers (pre-kindergarten/late toddler stage)
- minimal text - one or two words on page
- very large font
- repetitive structure: The boy. The dog. The cat. 
- familiar language
- pictures dominate and tell the story
Emergent/Beginning Readers (kindergarten level)
- direct picture to text matching
- pictures still dominate the page
- repeated patterns and phrases: Polar Bear, Polar Bear, what do you hear?
- a few words or one sentence per page
- large font
- some rhyming words and obvious sight words or high frequency words like color words, number words, or the days of the week. 
- one basic concept or simple plot
- one or two characters 
Beginning Readers (first grade) 
- pictures support the text
- high frequency and sight words
- few sentences per page
- medium sized font
- simple plot or concept
- one and two syllable words: teacher, farmer, someday, happy
- simple dialogue
- main characters with some supporting characters
-introduction of past tense verbs and suffixes: -ed, -ly, -ing, -er
Developing Readers (end of first grade into second)
- pictures enhance the story but do not provide for specific clues about print
- less repetition
- paragraphs are introduced
- short and simple chapter structure
- compound sentences: The dog walked home and sat down in his chair. 
- dialogue between characters
- introduction of compound words and multi-syllabic words: mailman, butterfly, everywhere, exactly
- more complex plot or story line: a problem and resolution 
Keep in Mind:
all children progress at their own pace so the developmental/grade range given is a standard but may be different at different stages for each child and some children may stay in one stage longer than others. Wait until your child is ready to move to the next level of books before introducing them. 
This applies to books your child practices with you or reads on their own. Read-aloud books can be any books you and your child are interested in and preferably above your child's level so they learn new vocabulary and enjoy complex stories with captivating characters. 
Much of the child's "reading" in the Baby to Emergent Reader phases is memorizing books, that is why the repetitive nature and attachment to pictures are so important. 
**For more book recommendations see the Appendices in Teach a Child to Read with Children's Books. Need your copy now? PURCHASE HERE