Chapter 5 is the pivotal chapter in our book that sets us apart from all other reading programs. We believe with good children's literature, some strategic planning, and the guidance provided throughout Teach a Child to Read with Children's Books, you can create a literacy rich environment and lay the foundation for early literacy skills without spending money on various reading programs and packaged systems that cost hundreds of dollars. Get your FREE chapter today and see if Teach a Child to Read with Children's Books is the balanced, no-nonsense approach to reading you have been looking for. We believe real books offer opportunities to foster a love for reading in a way no packaged program ever can.

Teach a Child to Read With Children's Books is featured as a top product in Cathy Duffy's 2014 release of 102 Top Picks for Homeschool Curriculum!  Click the link at the right of this announcement to read her excellent review.
What's the basic philosophy behind Teach a Child to Read With Children's Books?
"... I would love to see every parent of preschoolers read this before making a decision about purchasing any other program."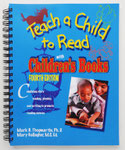 Not all children learn in the same way.  This is as true with reading instruction as with any other academic subject or life skill.  Using one strict approach to reading instruction with every child limits both the teacher and the child to a strict, production line methodology that might overlook some of the most beneficial and enjoyable elements in a full-orbed learning experience.
In Teach a Child to Read With Children's Books, the authors Mark Thogmartin and Mary Gallagher explain both the philosophy and the methodology associated with a balanced approach to reading instruction.  Children are hard-wired to learn language, and the authors recommend capitalizing on the inclination toward language acquisition inherent in all children as they explore the printed word through published children's books and stories that they themselves have authored.
In this completely-revised fourth edition, Thogmartin and Gallagher combine time tested but up-to-date research-based methodologies with their own experiences as seasoned educators to help any literate adult in their quest to teach a child to read.  They invite you to freely explore the resources on this site.  Read Chapter Five, and check out the testimonials.  And when you are convinced that it makes sense to use great children's literature as you teach a child to read, place an order for your copy of Teach a Child to Read With Children's Books by clicking the Purchase the Book link on the left.